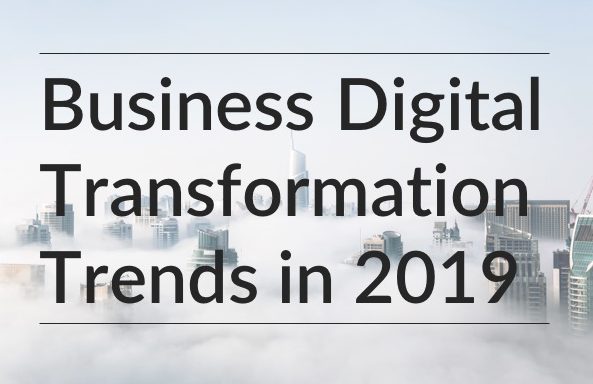 Business Digital Transformation Trends in 2019
Digital Transformation — it's a top business priority. But why all the attention? A Forrester research reveals that organisations believe that by 2020, nearly half their revenue will be impacted by digital in some way.
Yet, it's important to know that Digital Transformation is not only a technological transition, but an organisational shift at the intersection of technology, business and people, such reflection must take countless possibilities into account. 2018 has been a year of turbulence, with important incidents like US & China Trade War, Facebook Cambridge Analytica scandal followed by GDPR coming into effect. Organisations need to evolve strategically to address the changing business landscapes.
Inspired by an article written by Daniel Newman in Forbes previously, Introv, a digital transformation enabler for businesses, has listed out the following business digital transformation trends to watch in 2019.
#1 Companies turning to Multicloud 
You will hear more often the new buzzword "Multicloud". More businesses are realising that sometimes they need a mix of public cloud, private cloud or data centre – to cloud-source a variety of business needs from storage, networking, security, to app deployment.
Major public cloud providers like Amazon and Alibaba are now also offering private cloud (or in Google's case, container-based) options. The commitment to connecting clouds can be most seen by HPE with Cloud Technology Partners and VMWare's acquisition of CloudHealth Technologies.
#2 The Fog – Edge, Cloud and IoT working together
As IoT grows and the number of connected devices is expected to grow to 1 trillion by 2020, there will need to be more space to process the data and store the data. The concept of Smart Cities and Autonomous Vehicles needs analytics and data processing in real-time, which can only be best supported by edge computing.
However, cloud and edge are not mutually exclusive. The two work together tirelessly. Cisco calls the interdependence of edge and cloud as "The Fog", as critical data interactions take place between the edge and the cloud to maximise data utilisation.
#3 CIOs fitting Business Needs with Consumption-Based IT Services
According to a CIO survey by Forbes regarding IT budgets and trends in consumption of cloud overall, there is a genuine interest in creating efficiency, increased flexibility in terms of workloads as well as the ability to scale up and down rapidly based on business needs.
This means, just like how Introv is working with Salesforce and Oracle NetSuite – the market leaders for CRM and ERP as a Service respectively , that the idea of IT support, consulting and maintenance as a service is highly desirable, and companies are becoming more sophisticated in sourcing IT services from the menu to fit business needs.
This ITaaS allows for scalability, the latest technology, shorter procurement cycles, and increased agility. More companies are leaning this way in 2019.
#4 Companies investing in Utilisation of Data: IoT, Analytics, Machine Learning and AI
Data is key to companies being able to make good decisions about products, services, employees, strategy and more. As recent data has shown we have created 90% of the world's data in the past year, but we are only using 1% of the data effectively.
Thanks to IoT, everything will have a sensor that sends information back to the mothership. IoT is generating massive volumes of structured and unstructured data, and an increasing share of this data is being deployed on cloud services. As a result, demand is growing for analytical tools that seamlessly connect to and combine a wide variety of cloud-hosted data sources.
Data analytics tools enable businesses to explore and visualise any type of data stored anywhere, helping them discover hidden opportunity in their investment.
With enhanced processing power to increase machine learning, digital leaders will invest in utilising their data. Investment into Data, Analytics, Machine Learning and AI could grow the amount of data being used effectively by 3 or 4 times.
#5 Marketers embracing Chatbot and Marketing Automation
Chatbots and marketing automation tools integrated with CRM platform allow modern marketers to personalise brand messaging, perform outreach, and deliver support to prospects and customers, while creating efficiencies and increasing productivity without additional headcount or time.
Natural language processing (NLP) and sentiment analytics deployments will shake up the service industry. According to Forbes, 40% of large businesses have or will adopt NLP by the end of 2019 to gather insights and improve their service.
Customer Relationship Representatives are enabled to put more focus on value-added services to deliver great customer experiences.
#6 Retailers driving Customer Experience with AR and VR
Gartner predicts that by 2019, AR, VR and mixed reality (MR) solutions will be evaluated and adopted in 20 percent of large-enterprise businesses.
AR is essentially allowing enterprises to "augment" retail trials and catalogues for their customers, thus offering a much richer and close-to-life shopping experience. Furniture retail giant IKEA, which opened its first India store this year, has created immersive VR-led showrooms where products can be viewed in 3D. It is working with a few homegrown startups to enable that experience for Indian customers.
Embarking on 2019
Many companies are making sweeping organisational changes, adding key roles, reskilling employees, setting up innovation labs and experimenting with emerging technologies to meet business goals. IT leaders are to partner with Chief Digital Officer or Chief Marketing Officer to negotiate the changes required for transformation. Not sure where to begin with? Work with our technology consultants for a free Business Health Check.
Again, Digital Transformation is not just about technology itself. The customer, culture and employees along with business continuity must be at the heart of every technology investment.
Subscribe our newsletter to stay tuned on all related industry trends and emerging technologies.
Read more on Digital Transformation Examples:
Shanghai Tang Soars to the Cloud in 3 months for Seamless Retail Operations & Customer Experience
Jacobson Pharma Transforms Sales Workflows with High and Scalable Capacity