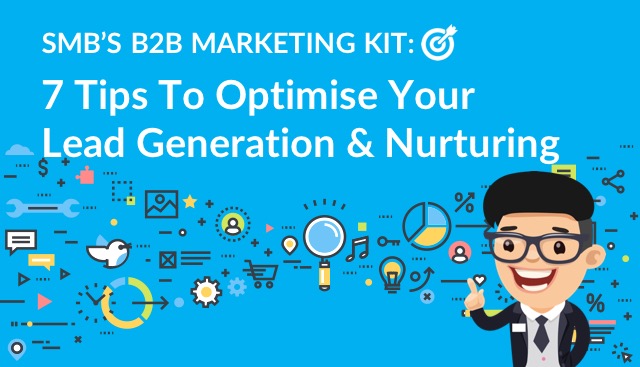 Business-to-business development is all about getting that next client. A business without initial leads is like a flight without engine; no matter what kind of fuel you put into it, it will never take off. However, generating qualified leads isn't easy and in the SMBs B2B space it's down-right difficult. In the era of the technology-empowered customer, a mix of inbound marketing, social media and content marketing could be the answer.
So how do you do that?
Here are 7 ways to hone your B2B lead generation strategy:
#1 Prioritise inbound leads over outbound leads
Traditional marketing for B2B like advertisements, internet banners and cold-calling – is considered outbound marketing. Inbound marketing is the reverse of outbound. It is the individual prospect who chooses the type and timing of the interaction.
With limited time and budget, how can SMBs point effort directly to prime prospects?
While both marketing strategies work, outbound lead is not as effective as inbound. In fact, outbound leads cost on average 61% more than inbound ones. Inbound lead generation is a long term play that has the potential to bring in leads at a lower cost per lead. By creating quality content your customers are genuinely interested in, they're drawn towards your offers and brand because they want to learn more. Then, because the offers are relevant, the leads are more eager to become paying customers.
#2 Prioritise leads by scoring
You can implement a Lead Scoring mechanism which gives score to leads based on their lead source. That is to prioritise the lead sources that usually have higher conversion to revenue. Other scoring criteria includes email opens or clicks, and engagement across touchpoints etc.
The score of each lead changes along your nurturing process. It is important to plan strategically when and how to interact with the leads based on their scores.
Too much Mathematics? Not at all. You can automate all these complicated score calculations by presetting rules in a CRM system e.g. Salesforce Pardot, and use it to drive precise marketing spend and improved revenue outcomes.
#3 Use CRM to nurture your leads
According to a 2018 customer research, 78% of business buyers in Hong Kong say they want to enjoy the same experience as they are buying for themselves. They want companies to engage with them as a person, not a number, to win their business. Customers increasingly expect to have a 1:1 relationship with businesses.
A proper customer relationship management (CRM) system here will allow you to gather, store, analyse and track lead information, helping you personalise the customer experience and show that you care about them very much.
Investing in an efficient CRM system can help not only to generate leads, but also to convert leads by segmenting massive amounts of raw prospect data to target the most promising prospects. With this business intelligence, you can quickly and inexpensively disseminate relevant information to a wider range of targeted potential customers.
Learn from customer stories to see how similar business are leveraging CRM to grow their business.
#4 Engage your customers with good content
Compelling content plays a huge role in generating leads in B2B industry. This includes the tools such as your website, SERP, and social platforms. Content marketing presents a great opportunity to create relationships and trust between your brand and your prospects.
Just as what they say: you can catch a lot of flies with honey, but you can catch more honeys being a fly. The key is to think about the type of content that your audience will like, rather than being self-serving. Adapting that mindset in your content marketing strategy to create more valuable content from your business could not only increase lead generation rates, but also improve the quality of leads you attract.
#5 Leverage social media channels
Marketing Institute found that 63% of marketers rated LinkedIn as the most effective B2B social media platform that can generate leads, which makes LinkedIn most appealing. In fact, on average, 12 channels are used by business buyers to communicate with companies. Facebook, Twitter, YouTube, Slide Share and more are where today's business buyers are also hanging out. This social group includes many of your customers and prospects — so your business simply can't afford to skip having a social presence.
With Twitter cards, Facebook's objective-based advertising and LinkedIn's sponsored ads, you should leverage your social media strategy across these channels in your lead generation campaigns.
#6 Utilise visual content
Visual content is vital to building company engagement because it communicates more effectively than verbal or written content, builds trust, and naturally motivates people to interact with content.
In fact, visual contents receive more engagement than both links and text on social media. According to Syndacast, 74% of all internet traffic in 2017 was video. While tweets with images received 150% more retweets than tweets without images.
Therefore, visual content should be an important component of your inbound marketing and content marketing strategy. Start by sharing visual content online, building high-quality, unique visual content on your online channels, and integrating images and video to spice up your presentations or slideshows.
#7 Provide patience for your leads
The most important tips in B2B lead generation strategies, however, is perseverance. Just 2% of sales are made on the first contact. Successful lead generation is a result of consistently distributing content and offers that provide real value to your prospective leads.
There may be quicker and dirtier lead generation techniques that can be used to bring in potential customers. But in the long run, these won't be as profitable as those leads that you draw in through the targeted and steady process of inbound marketing, content marketing and social media. By continuing to nurture your leads this way, you'll be able to capture higher chance of conversation than less-patient competitors.
Follow one, two or all of these tips to supercharge your business. Meanwhile, you can let our consultants understand and help. Get a free consultation with us today!
Read also 5 Mistakes Made by SMBs When Evaluating a CRM for Their Business