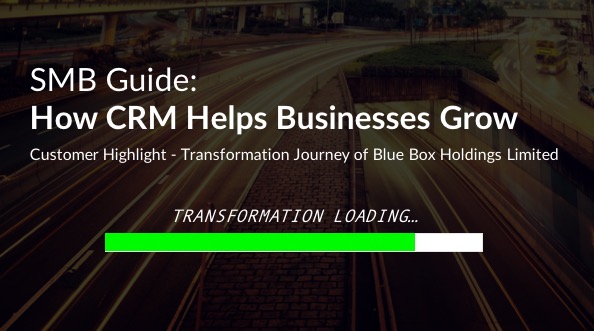 If your small or middle-sized business is still growing well, you might not think you need a customer relationship management (CRM) technology. In fact, if you are using any types of spreadsheets or emails to manage customer conversations and follow-ups, you are already using a customer relationship management solution.
But the questions is: Does your current solution make the best use of your time and resources to grow your business? Not sure what is CRM? Learn more here.
At Introv, we work with Salesforce, the world's #1 CRM to tailor and design CRM solutions specifically for the needs of small businesses, to help them grow and prosper. Our customers have grown and gained larger customer base by mastering CRM for their business. Here we'll share the growth journey of one of our customers, Blue Box.
Before that, we'll explore how an SMB-tailored CRM can help businesses grow and unlock new business opportunities.
1. Really knowing your customers, and what they want
Today's marketing is all about personalisation and respecting specific customer journeys.
CRM stores and centralises every customer interaction in the one system. A customer's engagement history is available in real time – which products your customers own, when they bought them, the reasons for their last call, etc. This way, you get to understand your customers buying habits, needs and the best channels to engage with them.
2. Making marketing campaigns more effective
Salesforce Survey reveals that businesses attained an average 25% increase in marketing ROI after deploying Salesforce CRM.
CRM enables low-cost targeted lead generation, instead of blasting out mass promotions to everyone. You can work out a potential customer profile by analysing your current and past customers. The platform helps you identify and market to new prospects who closely resemble your existing customer base. Within the CRM platform, all marketing activities and individual customer's interactions are tracked and connected. The team is able to map all the touchpoints along each customer journey, driving more efficient and targeted engagements that well meet individual needs and expectations. Deals can be closed faster and marketing campaigns are more effective.
3. Automating your marketing tasks
It could take up a lot of manual efforts to deliver targeted and carefully personalised marketing campaigns. Salesforce CRM platform helps you shape and plan customer journeys, then automate the rest. You and your team can focus on other value-added tasks, while your leads are nurtured gradually.
The tool simplifies manual processes involved in web-to-lead, drip marketing, social listening, lead nurturing and upselling & cross-selling opportunities. Powerful as it sounds, businesses using marketing automation are experiencing a 50% increase in productivity and a 34% increase in sales revenue.
4. Empowering employees with time-saving apps
Overwhelmed with busy work and failed to be productive? Imagine how much more efficient processes would become with mobile apps custom-built for their needs.
Salesforce CRM offers an app platform which is a single ecosystem where anybody in the business can easily build their own apps without coding. This hassle-free no-code app builder allows you to turn a disconnected office functions and spreadsheet-heavy processes into a smooth, digital automation, freeing up your team for more productivity.
5. Growing a community of a loyal customers
Within Salesforce CRM, you can create communities of customers, turning your existing customers into brand ambassadors. Within the community, you can collaborate with customers, and they can engage with each other and answer each other's questions. You'll get deep insight into their preferences and habits.
Read on the success story of Blue Box.
Blue Box, which offers infant gear, baby and preschool toys products, transformed from traditional OEM and ODM business models to a truly customer-centric brand company with the help of CRM.
Realising the major business challenge
After acquiring the US leading baby gear brand – Infantino, and expanding the market share in Europe, lacking a centralised customer profile database once made it a major challenge for the company to grow sustainable business. Having no visibility into buying history/habits, feedback status, product selection, and sale makes it difficult to understand customer's needs.
"With a big clientele, how to develop partnership, collect their data, and understand their preference, have been a great challenge to us."
– David Chan, CEO of Blue Box Holdings Limited
Inefficient sales and marketing management was another key issue. Sales and marketing team members worked on separated spreadsheets, with no single platform to collaborate or track all follow-ups.
Seeking Consultation for a CRM that meets long term business goals
Blue Box knew well their vision what they wanted to sustain and achieve in the long run.  After sharing their vision and goals with us, our consulting team worked out how they can meet their business goals by leveraging CRM technology.
"Facing such a great challenge, a large amount of data must be acquired from customers' database with the use of sales tools in order to bring us to the 21st century in the long run."
– David Chan, CEO of Blue Box Holdings Limited
Transforming into a truly customer-centric brand
Now, thanks to Salesforce CRM, Blue Box can gain access to insightful information such as buying habits and customer needs at real time.
"We adopt this platform to connect data of the entire market and found it very effective."
– Alex Chan, COO of Blue Box Holdings Limited
All customer data across multiple regions are now well-integrated in one hub, which empowers the sales and marketing teams with more effective customer communications and better customer experience.  Enjoying the increased market competitiveness, the sales team close more deals faster.
Succeed with the small business advantage
Providing a personalised service and developing an intimate relationship with customers are what make small businesses stand out. However, CRM technology has levelled and made it possible for large enterprises to do the same.
Stay nimble and keep up in the race. SMB-tailored CRM platform enables SMBs to take personalisation to the next level. Through automation, data analysis, interactive systems and artificial intelligence, SMBs can gain back the small business advantage. And it doesn't require an IT team.
Read next: 5 Mistakes Made by SMBs When Evaluating a CRM for Their Business
Customer Success Story: Blue Box becomes customer-focused with Introv